10 Feb

Top tips for sharing photos

We all love to share our photos with family and friends, and we usually do it the fastest way we know how.  But have you ever stopped to think what is the 'BEST' way to share them?

Today's blog is all about maintaining the quality of your original photo so that resolution and metadata are not lost or compromised.

As Photo Organisers, one of the most upsetting things we come across are beautiful digital images from special events like weddings and parties that are too low resolution to print or use in a photo book. This usually occurs because they have been compressed to share via a social sharing platform such as WhatsApp and Facebook Messenger or text message.  These programs compress the images and strip all metadata on sending (for privacy). Although the resolution may look fine on your device, these compressed files are too low resolution for use in a photo book or for printing.

Here is an example of an image shared via Facebook Messenger and text message: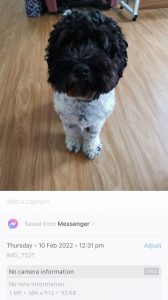 Original file size = 2.43M
File size when shared via Facebook Messenger: 93KB
File size when shared via text message: 194KB
If you have photos you would like to share with family or friends, here are some suggested sharing methods you can use to retain the original file size/quality and metadata:
Email
If you have a small number of photos to share, and you know the email address of your recipient, then email is simple. Keep in mind your mail provider will have a maximum file attachment size and depending on the original file size of your images, you may only be able to share 2-3 images per email.
Airdrop
If you are sharing between Apple devices (iPhone, iPad, Mac) and the other device is within close proximity, then Airdrop is Apple's file sharing service that keeps the original size. Devices must be near each other and have Bluetooth and Wi-Fi enabled.
Alternatively, if you are not close by the other person's device, you can share between Apple devices using Shared Albums in the Photos app. This article explains how to set up and share images using Shared Albums.
Bluetooth
Android & PC devices can share between devices that are in close proximity to each other, with Bluetooth enabled and each device connected to each other.
This article goes into detail on how to share files via Bluetooth.
Large batches
If you are sharing a large number of images between multiple people you might look to upload the files to a cloud storage platform and share a link via email for family and friends to download the files. Cloud storage/sharing services include Dropbox, Google Drive and OneDrive.
Instructions for sharing via Dropbox: https://help.dropbox.com/guide/individual/how-to-share-files-folders#sharing-with-dropbox
Instructions for sharing via OneDrive: https://support.microsoft.com/en-us/office/share-files-and-folders-in-onedrive-personal-3fcefa26-1371-401e-8c04-589de81ed5eb
We understand there could be a small learning curve and it might take a little effort on your behalf to change your habits, but it is worthwhile!  Especially when it comes to creating special milestone photo books.  So very often a client wants to include a specific 'great' photo that someone sent them in a book, but the resolution of the shared image prevents that, or the project is delayed whilst they attempt to track down the original file.
How do you usually share images?  Will you change the way you share?  Let us know in the comments.
Remember to subscribe to our newsletter for more great tips.
Until next time
Have a magical day.